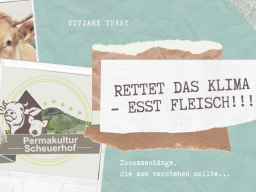 Rettet das Klima - esst Fleisch!
Location:

Live webinar

Video price:

for free

Video duration:

1 hour and 30 minutes

Language:

German
A recording of this webinar is available.
Viele verzichten für das Klima aufs Fleisch. In diesem Webinar erkläre ich die Zusammenhänge, warum das in der Regel eher klimaschädlich ist und auf was man besser achten sollte. Denn das Klima geht uns alle an!